Website
hokej.cz
has released attendance statistics for the Tipsport Extraliga's 2010-11 season. To 364 regular season games, the league drew a total of 1,796,672 fans for an average of 4,936 per game.
In the 18-year history of the Czech Extraliga, that is the fourth highest attendance total. The highest was last season, 2009-10, when 1,907,449 came out for an average of 5,240.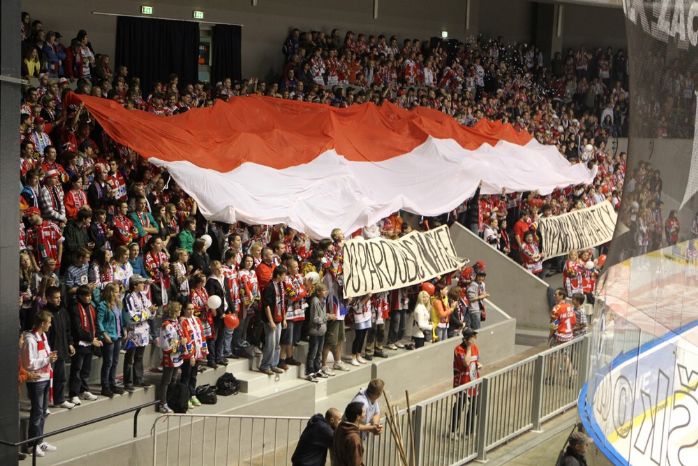 Pardubice fans at home. Photo: V, hcpce.cz.
In 2010-11, the leader in home attendance was Eaton Pardubice, at 8,922 per game. Although Pardubice is regularly at or near the top of the nation's attendance, this year's total was buoyed by the 17,140 they drew to the
OpenAir Hockey game at Pardubice-Svítkov Speedway on January 2
. To their other 25 home games at ČEZ Arena, their average was 8,593, which still would lead the league by over a thousand per game. ČEZ Arena in Pardubice (Plzeň and Vítkovice also play in arenas with the same name) has a capacity of 10,194. It is the fourth-largest hockey venue in the Czech Republic, after O2 Arena and Tesla Arena in Prague, home to Slava and Sparta, respectively, and ČEZ Arena in Ostrava, which is home to Vítkovice Steel.
At the bottom in home attendance, by almost 1,200 per game, was Vagnerplast Kladno. Kladno drew the 10 smallest crowds in the league, bottoming out at 1,202 on October 3 against Vítkovice. It is hoped that new management led by native son
Jaromír Jágr
will help improve fortunes, both on and off the ice, for next season.
Here are the home attendance figures for all 14 Extraliga clubs:
Club Total Average
HC Eaton Pardubice 231,968 8,922
HC Kometa Brno 186,285 7,165
HC Plzeň 1929 157,762 6,068
Bílí Tygři Liberec 142,147 5,467
HC Sparta Praha 134,289 5,165
HC Vítkovice Steel 131,184 5,046
HC Slavia Praha 130,307 5,012
HC Mountfield Č. Budějovice 124,136 4,774
PSG Zlín 119,756 4,606
HC Benzina Litvínov 106,853 4,110
HC Oceláři Třinec 95,892 3,688
HC Energie Karlovy Vary 92,898 3,573
BK Mladá Boleslav 87,065 3,349
HC Vagnerplast Kladno 56,130 2,159
Kometa Brno fans in Prague, making life difficult for
Slavia goaltender Miroslav Kopřiva. Photo: Pavel
Vrtiška, hc-slavia.cz.
On the road, Kometa Brno was the most popular draw, thanks to the large entourage of supporters that often followed them to other cities. When Kometa was the road team, average attendance was 5,981, over a thousand more than the league average, and the two largest crowds of the season were both Kometa road games. Doubtlessly, this support was inflated by the team's great start, as the team was mired in the First League from 1996 to 2009 and it has been a long time since a team from Brno has contended for a national title.
At home, Kometa played to capacity most games, averaging 7,165 at Hala Rondo, which lists capacity at 7,200. Plans to expand the arena will likely result in increased attendance, possibly challenging Pardubice for tops in the league.
Here are the 10 largest single-game crowds of 2010-11:
17,140 - HC Eaton Pardubice - HC Kometa Brno, Jan 2
12,251 - HC Slavia Praha - HC Kometa Brno, Nov 30
10,108 - HC Sparta Praha - HC Slavia Praha, Jan 21
10,104 - HC Eaton Pardubice - HC Slavia Praha, Feb 4
10,055 - HC Eaton Pardubice - HC Plzeň 1929, Dec 26
9,865 - HC Eaton Pardubice - HC Vítkovice Steel, Nov 17
9,559 - HC Slavia Praha - HC Sparta Praha, Oct 31
9,496 - HC Eaton Pardubice - HC Slavia Praha, Oct 8
9,423 - HC Eaton Pardubice - HC Vítkovice Steel, Feb 1
9,320 - HC Eaton Pardubice - HC Sparta Praha, Sep 17
The outdoor game on January 2, of course, ranks as the largest crowd in Extraliga history. Here are the top five, according to Eaton Pardubice's website, since the league began in 1993-94 following the administrative break-up of Czechoslovakia:
OpenAir Hockey, January 2, 2011:
HC Eaton Pardubice – HC Kometa Brno: 17,140
Game 7, 2008 Extraliga Finals:
HC Slavia Praha – HC Energie Karlovy Vary: 17,123
Game 4, 2009 Extraliga Finals:
HC Slavia Praha – HC Energie Karlovy Vary: 16,730
Game 5, 2008 Extraliga Finals:
HC Slavia Praha – HC Energie Karlovy Vary: 16,617
Game 5, 2006 Extraliga Finals:
HC Slavia Praha – HC Sparta Praha: 16,182
For more Extraliga attendance figures and the entire article by Václav Jachim in Czech, visit:
http://www.hokej.cz/index.php?lng=CZ&view=clanek&id=51575