Coach
Alois Hadamczik
and his staff have decided which 23 players will be on the Czech Republic's roster for the opening round of the 2011 IIHF World Championship.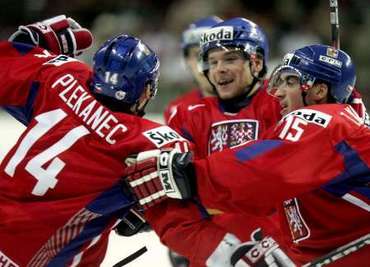 Tomáš Plekanec and Zbyněk Michálek (middle) will be re-united
in Czech colours in Bratislava. Photo: terkax.sblog.cz.
Tomáš Plekanec
and
Zbyněk Michálek
, who were speculated to be joining the team, have confirmed their participation in the tournament, but won't arrive in time for the first game. The duo is expected to join the team in Bratislava for practice on Sunday and then play in the Czechs' second game on Monday against Denmark. For their first game against Latvia on Saturday, either 19 or 20 players will dress.
"We haven't written down defencemen (Ondřej) Němec or (Jakub) Nakládal on the roster yet, or forwards (Petr) Koukal or (Petr) Vampola," Hadamczik told hokej.cz's Václav Jáchim. "For Saturday's game, we expect Michael Frolík. If he arrives in time, he'll play right wing on the fourth line with (Petr) Hubáček and (Jiří) Novotný."
As expected,
Ondřej Pavelec
will start in goal with
Jakub Štěpánek
backing him up. The third goaltender,
Jakub Kovář
, will probably only dress in the tournament if either Pavelec or Štěpánek are incapacitated.
Six defencemen will suit up:
Martin Škoula
,
Karel Rachůnek
,
Marek Židlický
,
Petr Čáslava
,
Radek Martínek
, and
Lukáš Krajíček
.
Up front, they'll go with four lines:
Roman Červenka
centring
Jaromír Jágr
and
Petr Průcha
,
Patrik Eliáš
centring
Martin Havlát
and
Milan Michálek
,
Jan Marek
centring
Jakub Voráček
and
Tomáš Rolinek
, and Novotný centring Frolík and Hubáček.
On Monday, the maximum of 22 are expected to dress, with the additions of Plekanec and Michálek. A team may dress up to 20 skaters and two goalkeepers for each game.
For the qualification round, which begins on Thursday, teams are permitted to add two additional players to their tournament rosters, but the maximum per game doesn't change. Hadamczik has coveted
Roman Hamrlík
and
Jaroslav Špaček
from Montreal, but neither player has yet confirmed his arrival. Both being defencemen, it's unlikely they'd add both. It's also unlikely that any players eliminated from the second round of the Stanley Cup playoffs would be available, as the earliest fourth game will be played early Thursday morning, European time. That could mean one of the forwards left off this roster, Koukal or Vampola, might return.
The Czech Republic will play all first- and second-round games at Orange Arena in Bratislava. Here is their opening-round schedule (all times Central European):
Sat, April 30 vs Latvia, 20:15, ČT4
Mon, May 2 vs Denmark, 16:15, ČT4
Wed, May 4 vs Finland, 20:15, ČT1
Česká Televize will provide extensive television coverage of the tournament, but webcasts will not be available due to IIHF restrictions. For people outside the Czech Republic who wish to watch these games, check out
the internet pay-per-view packages available at iihf.com
or the television listings provided by
the rightsholder in your country
.