If expectations were starting to get too high for the Czech team at this year's World Championship, the performance that they turned in on Wednesday in their last game before the start of the tournament might bring them back down to earth.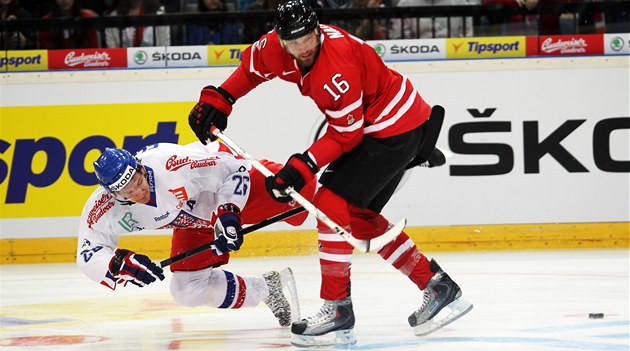 Patrik Eliáš and the Czechs got pushed around by Rick Nash and
the Canadians in the early going of Wednesday's pre-tournament
game in Prague. Photo: Michal Šula, MF DNES.
After a solid performance at the Czech Hockey Games in Brno, the Czech national hockey team hosted Canada at O2 Arena Prague before a near-capacity crowd of 16,289 that was likely not pleased with what it saw from the home side early on. The game started at 5:40pm in order to accommodate Czech television, who were also televising a Champions League football match afterward. Apparently, somebody forgot to tell the Czech team about the early start time, as they showed up about an hour later.
By that time, it was 4-0 for Canada, who dictated the play and held a wide 22-6 margin in shots. The Canadians had made a trans-Atlantic flight only two days earlier, but it was the Czechs who seemed to be suffering from jetlag. Luke Schenn and Brett Burns scored for Canada late in the first, and that was followed up by tallies from Cal Clutterbuck and Jason Spezza in the first six minutes of the second.
After the score got to 4-0, the Czechs started to play better, but the game was far out of reach by then. Martin Havlát finally broke the goose-egg at the 5:56 mark of the third period on a nice solo effort before beating James Reimer with a backhander. Havlát added his second of the game with less than eight minutes remaining, and the game ended 4-2.
"Martin showed what a great player he is," Czech coach
Alois Hadamczak
said after the game. "I asked him to play as if we were in a decisive quarterfinal game to show us that he can perform here like in the NHL. I told him before the game that he hadn't shown those qualities so far."
Apparently, Havlát's effort spared him from being cut from the roster. Others were not so lucky.
The most surprising deletion is Martin Růžička of Oceláři Třinec. The member of the 2010 World Championship team finished fifth in Extraliga scoring this past season and then set a new playoff record with 31 points in 17 games, en route to the Czech domestic championship. He was named the league's most valuable player and considered nearly a lock to be on this team. However, he went pointless in 9 games with the national team this year, and Hadamczik apparently felt that this team has enough firepower.
Other cuts include Martin Ševc of Färjestads and Michal Vondrka of Slavia Praha.
Michael Frolík of the recently-disposed Chicago Blackhawks was added to the team and will join the rest of the players in time for the tournament opener on Saturday against Latvia.
"He's played very well recently," Hadamczik said. "We need good skaters on the team and I think Frolík meets our criteria. He knows that we're interested and has expressed a desire to come here and join the team."
Now at 25, there are still two more players, probably a defenceman and a forward, that need to be trimmed to get it down to the tournament maximum of 23. There is still a possibility that centreman Tomáš Plekanec of the Montreal Canadiens and/or defenceman
Zbyňek Michálek
of the Pittsburgh Penguins, who were both eliminated from Stanley Cup play on Wednesday night, will be added. If they join the team, additional cuts would be required.
From hokej.cz, here is the team's roster as of Thursday:
Goaltenders:

Ondřej Pavelec (Atlanta Thrashers, NHL), Jakub Štěpánek (SKA St. Petersburg, KHL), Jakub Kovář (Mountfield České Budějovice).

Defencemen:

Radek Martínek (New York Islanders, NHL), Marek Židlický (Minnesota Wild, NHL), Karel Rachůnek (Lokomotiv Yaroslavl, KHL), Petr Čáslava (CSKA Moscow, KHL), Ondřej Němec (Severstal Cherepovets, KHL), Martin Škoula (Avangard Omsk, KHL), Lukáš Krajíček (Oceláři Třinec), Jakub Nakládal (Eaton Pardubice).

Forwards:

Martin Havlát (Minnesota Wild, NHL), Milan Michálek (Ottawa Senators, NHL), Patrik Eliáš (New Jersey Devils, NHL), Jakub Voráček (Columbus Blue Jackets, NHL), Michael Frolík (Chicago Blackhawks, NHL), Jaromír Jágr, Roman Červenka, Petr Vampola (all Avangard Omsk, KHL), Tomáš Rolinek (Metallurg Magnitogorsk, KHL), Jan Marek (Atlant Moscow Oblast, KHL), Petr Průcha (SKA St. Petersburg, KHL), Jiří Novotný (Barys Astana, KHL), Petr Hubáček (Kometa Brno), Petr Koukal (Eaton Pardubice).