After poor showings in the previous three legs of the Euro Hockey Tour had the Czech Republic sitting in the basement of the standings, Czech hockey fans were given some reason to feel optimistic about the upcoming World Championships by winning the Czech Hockey Games in Brno.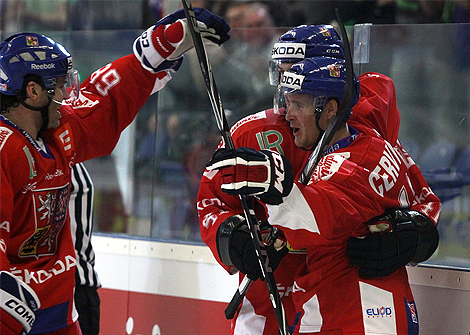 Jaromír Jágr (left) celebrates a goal against Russia with Roman
Červenka. Photo: eht.cz.
They opened the tournament on Thursday with a 2-1 win over Finland, then followed it up on Saturday with a 6-3 win over Russia, in which
Jaromír Jágr
recorded 4 points and defenceman
Radek Martínek
scored twice. Although they lost 4-2 to Sweden on Sunday, they had already wrapped up the tournament, as Sweden had dropped its first two games, meaning they won the tie-breaker with Russia based on winning the head-to-head matchup.
Although the Czechs finished last in the 2010-11 edition of the Euro Hockey Tour, the additions from the NHL and KHL have made them a much stronger team and they seem to be peaking at just the right time. They were led offensively by the line of Jágr,
Roman Červenka
, and
Petr Průcha
, who are all from the KHL. Omsk linemates Jágr and Červenka were first and second in tournament scoring with 6 and 5 points, respectively.
Ondřej Pavelec
of the was on goal for both wins, while
Jakub Štěpánka
stopped 27 of 31 shots in the loss to Sweden.
They will play Canada at O2 Arena in Prague on Wednesday at 17:40 Central European Time (In Canada, 11:30 am EDT, 8:30 am PDT). In the Czech Republic, the game can be seen on ČT4 Sport, while the webcast at
www.ct24.cz/sport
is available everywhere. It will be each team's last game prior to the start of the World Championships in Slovakia on Friday.
The mood on the Czech U18 team wasn't nearly as good. They finished up at the U18 World Championships in Dresden in the relegation round. On Thursday, they beat Slovakia 4-3 on an empty-net goal by
Lukáš Sedlák
in the dying seconds when, needing a regulation victory to avoid relegation, the Slovaks pulled their goalie with the score tied. Having already secured a spot in next year's tournament, they dropped their last game on Saturday to Switzerland by a score of 4-2.
For a team that opened the tournament with a 2-1 victory over Sweden and were very close to advancing to the quarterfinals, the eighth-place finish was disappointing. In their final game of the group stage against Finland, needing only a single point, they blew a 3-2 lead in the last five minutes and lost 5-3.
Over the course of the tournament, they were led offensively by
Dmitrij Jaškin
and
Martin Frk
, who each recorded 5 points. For complete individual statistical information of the Czech team at the U18 World Championships, click here:
http://stats.iihf.com/Hydra/244/IHM2440CZE_83_7_0.pdf