As the Czech national hockey team prepares for the World Championship in Slovakia, April 29 to May 15, they will play several games in their home country in the weeks leading up to it. Tickets for all Czech first-round games in Bratislava are sold already, but fans who want to see the team live will still have a chance in more convenient locations and for better prices.
From left: Jaromír Jágr, Milan Michalek and Petr Čajanek could be
re-united in Brno this April. Photo: daylife.com.
The Czech Hockey Games, which are the final leg of the Euro Hockey Tour, will be played at Hala Rondo in Brno, April 21 to 24. Though the Czechs sit in last place with virtually no chance of winning this year's edition of the tour, they will use these three games against Finland, Sweden, and Russia to tune up for the World Championships. Unlike the three earlier legs of the tour, this tournament will include NHL players, as it takes place after the end of the North American circuit's regular season. Some Czech NHLers who are unlikely to make the playoffs and might be seen include defencemen
Filip Kuba
and
Ladislav Šmíd
and forwards
Milan Hejduk
,
Aleš Hemský
and
Milan Michalek
. As well,
hokej.cz
reports that, although he hasn't played with the national team at all this season,
Jaromír Jágr
of the KHL's Avangard Omsk agreed before the start of the season to play in the Czech Hockey Games. Legendary goaltender
Dominik Hašek
, currently with Spartak Moscow, could also possibly participate.
Tickets for the weekend event are now available online at
home.tipsport.cz/page/tipsport-ticketpro
, or at the Hala Rondo box office. For Thursday's game between the Czech Republic and Finland, tickets are CZK 390 for a seat or CZK 250 for standing room. For action on Saturday or Sunday, which each include two games, the prices are CZK 590 sitting or 390 standing.
After that, the team that Czech hockey fans love to hate, the Canadian national team, is scheduled to pay a visit to Prague's O2 Arena. The Canadian team will consist either entirely or almost entirely of NHL players.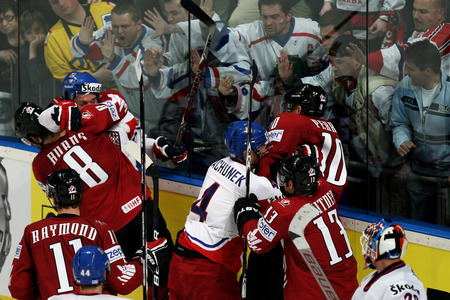 Czech Republic vs Canada at the 2010 World Championships in
Mannheim, Germany. Photo: Alex Grimm/Bongarts/Getty Images,
bleacherreport.com.
On April 27, just three days before the start of the World Championship tournament, the Czech Republic and Canada play their final pre-tournament games in the Czech capital. Tickets for that game are available now at
www.sazkaticket.cz or at the O2 Arena box office. Up until the end of March, lower level tickets cost CZK 790
for sides and 690 for ends, and 390 for upper-level tickets. Starting April 1, the prices jump to CZK 990, 890, and 590.
Not to be forgotten, the Czech national team also will play in several two-game weekend series in early April as part of the Euro Hockey Challenge. They play April 1 and 2 in Norway, 8 and 9 in Belarus, and then will host Switzerland April 15 and 16 in Litvínov. Ticket information for the latter will be released when it becomes available. It's unclear what kind of roster the Czech team will use for these games, as some players will be unavailable with Extraliga playoffs.