When they announced the relaunch of the Champions Hockey League in November, the International Ice Hockey Federation gave a date of February 17 for the top eight member leagues to accept an invitation to join.
On Friday, the day after that deadline,
the IIHF announced on its website that next week it will announce a decision
. The federation's council will meet from Tuesday to Thursday, after which they plan to announce whether the league will go ahead for the 2011-12 season.
"This is not a clear 'yes' or 'no' situation," said
Horst Lichtner
, the IIHF's General Secretary. "Several replies that we have received are basically positive to a re-launch, but they carry certain conditions and, together with our board and our marketing partner, we must carefully evaluate if those conditions can be met."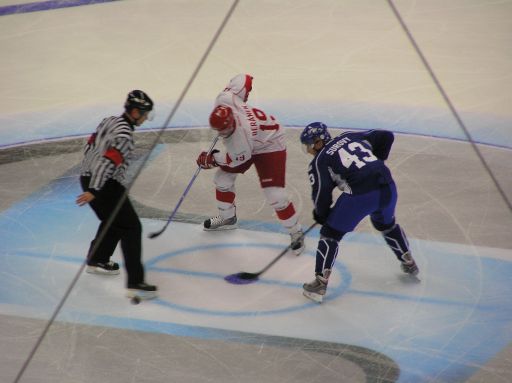 Slavia's Josef Beránek takes the opening faceoff against Tomáš
Surový of Linköpings HC in the Swedish city, November 12, 2008.
Photo: cupko.sk.
The top eight leagues are the national leagues of the Czech Republic, Finland, Germany, Slovakia Sweden, and Switzerland. Also included are the Russian-based KHL, which also has teams in Belarus, Latvia, and Kazakhstan, and the Austrian-based Erste Bank Eishockey Liga, which also has teams in Croatia, Hungary, and Slovenia.
It isn't known exactly how each league has responded, but it is known that several of the leagues have expressed dissatisfaction with how the IIHF cancelled the 2009-10 and 2010-11 seasons when they had a three-year conract, and don't think that they relaunch plan adequately compensates the damaged clubs. The affected Czech clubs were Energie Karlovy Vary and Slavia Praha for 2009-10 and Plzeň 1929 and Eaton Pardubice for this season.
The Czech Republic's Association of Professional Clubs (APK) has already said that if this situation isn't dealt with to their satisfaction, they won't participate.
If the league goes ahead, six of the leagues, including the Czech Extraliga, will be guaranteed two teams in the 16-team circuit; the regular-season and playoff champions. Prior to Friday night's games, Oceláři Třinec holds a 2-point lead atop the standings over Bílí Tigři Liberec with 2 games remaining in the Extraliga's season.