Regardless of the standings, a Sparta-Slavia match-up always
has feeling. Photo: Jan Beneš, www.sporting-photo.com.
For hockey fans in Prague, there is nothing more exciting than a match-up between the capital city's two Extraliga clubs, Sparta and Slavia. Ever since Slavia returned to the country's top league in 1994, it's been a spectacle, reaching its peak when the teams met in the 2006 Final, which was won by Sparta. When the teams met at Tesla Arena on Friday night, there wasn't as much at stake, but as the league enters its stretch-run, both clubs still viewed it as a must-win game.
For visiting Slavia, who currently sit in seventh place, they want to finish in the top six and avoid the play-in round. As well, with the tightness of the standings, a playoff spot was still not guaranteed. For Sparta, the situation was more critical. Trailing the final playoff spot by 13 points with 11 games to play, they need to put together a substantial run if they want to have a chance at the playoffs and salvage a season that has been, to this point, a disaster.
Tesla Arena has been a lonely place for much of the season, with crowds in the 3-5,000 range being the norm for much of the past couple months. Of course, the derby meant a healthy number of Slavia supporters and more Sparta fans who want to be part of the atmosphere, and the crowd swelled on Friday night to 10,108. Possibly charged by the atmosphere,
Michal Broš
scored the winning goal for Sparta in the game's first minute and
Tomáš Pöpperle
stopped all 23 shots he faced, as the home side prevailed 3-0.
If there was any good news for Slavia, it was the return to the line-up of 17-year-old phenom
Dmitrij Jaškin
. He injured his knee on November 21, causing him to miss two months of action, which included the World Junior Championships. Jaškin saw limited action during the game, but didn't look out of place.
The three points may give Sparta a glimmer of hope in its bleak playoff chances. With 10 games to play, they trail Kometa Brno and Plzeň 1929 by 10 points and hold a game in hand, but Benzina Litvínov stands in their way.
Litvínov went into Pardubice on Friday night looking to atone for Tuesday's dreadful 7-1 loss on home ice to Kometa Brno. The team, led by general manager
Jiří Šlegr
and head coach
Robert Reichel
, was so embarrassed by their performance in such a big game that they issued a public apology to their fans.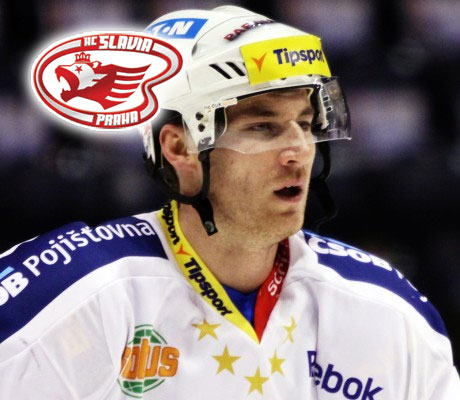 Tomáš Kůrka in his Eaton Pardubice debut.
Photo: www.hcpce.cz.
Meanwhile, Pardubice fans were buzzing about the debut of
Tomáš Kůrka
, who was cut loose by Sparta on January 9. After recording 41 points in 43 games for Slavia last season, the 29-year-old right winger had only 12 points for Sparta in 38 games this season. Kůrka played on a forward line with
Tomáš Zohorna
and
Adam Pineault
of Holyoke, MA, and the trio led Eaton Pardubice's attack.
After a scoreless first period, Kůrka set up Zohorna, who made a nifty move from behind the goal line to stuff the puck into the open side and give the home team the lead. Five minutes later, Zohorna scored his second of the game on a long shot from the point, assisted by Pineault. After Litvínov struck twice to tie the score, Pardubice regained the lead late in the middle frame when Pineault and Kůrka combined to set up defenceman
Jan Kolář
, who fired a bullet past goaltender
Martin Volke
. In the first minute of the third period, a forward who is also named
Jan Kolář
(a different, unrelated player) restored the 2-goal cushion. There was no further scoring and the game ended 4-2.
After ending their losing streak on Tuesday, Kometa Brno was looking for more on Friday against PSG Zlín. The game was tied 2-2 in the third period, but Zlín's
Martin Hamrlík
broke the tie with 6:42 on the clock and an empty-netter made it a 4-2 final. Failing to get any points means that Kometa remains tied for ninth with Plzeň, who won in Liberec on Thursday.
In other action, Oceláři Třinec held its lead on first place with a 6-4 victory on home ice over Vagnerplast Kladno, and Vítkovice Steel took advantage of the Liberec loss and returned to second place by doubling Energie Karlovy Vary 4-2. And in their first game after releasing
Scott Barney
, last-place BK Mladá Boleslav edged Mountfield České Budějovice 3-2.