In the first two days of the Extraliga's quarterfinals, the road teams have been successful, and both of them have a chance to close out their series at home. Eaton Pardubice has run its playoff winning streak to 14 by taking both games in Zlín, and now find themselves in the enviable position of going home up 2-0. Meanwhile, Vítkovice Steel earned a split in České Budějovice, and now can look forward to three home games in a row.
(4) PSG Zlín vs (5) Eaton Pardubice
Game 1 - Zlín 3-4 Pardubice (overtime)
Game 2 - Zlín 2-4 Pardubice
(Pardubice leads best-of-seven series 2-0.)
Tempers flare late in game 2 between Zlín (yellow) and Pardubice.
Photo: Petr Sagner, Zlín Press/hokej.zlin.cz.
Pardubice won the first game, 4-3 in overtime on
Martin Bartek
's power-play goal. They then got off to an early 2-0 lead in game 2 and preserved that margin of victory to the end, escaping with a 4-2 victory and a 2-0 series lead. They were led by 3 points from
Jan Starý
. The third period of the second game got rough, particularly after Zlín's
Michal Důras
ran Pardubice goaltender
Martin Ružička
, which touched off a three-on-three altercation involving North Smithfield, RI's
Jeff Jillson
. The bad blood may foreshadow what is to come when the series resumes in Pardubice on Monday night.
The defending champions are now clearly in the driver's seat of the series, and will look to complete their third consecutive playoff sweep, thereby avoiding a return to East Moravia.
(3) Vítkovice Steel vs (6) Mountfield České Budějovice
Game 1 - České Budějovice 1-3 Vítkovice
Game 2 - České Budějovice 5-0 Vítkovice
(Best-of-seven series tied 1-1.)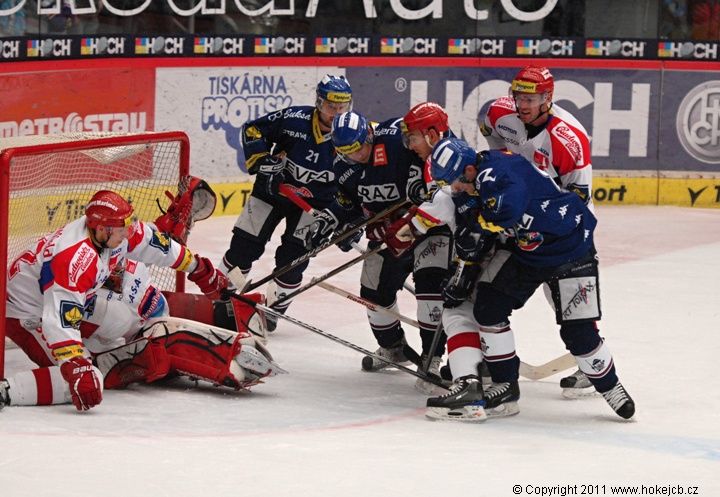 Vítkovice applying goalmouth pressure in České Budějovice. Photo:
František Panec, hokejcb.cz.
Both games featured scoreless first periods. In the first game, it was Vítkovice who broke the goose egg with two goals in the second period, then held off a late charge for a 3-1 win.
In Game 2, the home team was determined not to fall into an 0-2 hole, out-shooting Vítkovice 49-21 and winning 5-0. They got on the board with two goals 1:16 apart in the second by
Jiří Šimanek
and captain
František Ptaček
. Ptaček one-timed a laser over
Roman Málek
's left shoulder after the goaltender had gone down early. At the other end,
Jakub Kovář
picked up the shutout.
Despite being the higher seed, Vítkovice was forced out of their home rink for the first two games of the series due to the Davis Cup tennis series in Ostrava this weekend. Therefore, they now have 3 straight games at home and could close out the series without having to return to South Bohemia.
(2) Bílí Tigři Liberec vs (7) Slavia Praha
After winning a five-game play-in series against Karlovy Vary, Slavia advances to play Liberec, who has been idle since finishing the regular season on February 20. Slavia's best chance for a victory is to grab an early lead against the White Tigers, who may have to shake off some cobwebs.
Despite finishing points behind Liberec, Slavia did win the season series 8 points to 4, so an upset isn't out of the realm of possibility. However, they will have to solve their scoring woes and also hold off Liberec's powerful offence, led by veteran
Petr Nedvěd
. 38-year-old Nedvěd was third in the league with 55 points this season. They will also have to contend with Liberec's fans, who will undoubtedly fill Tipsport Arena to capacity dressed all in white, and probably show up to the games in Prague in significant numbers as well.
Saturday's series-opening game begins at 18:30 (UTC +1). However ČT4 will join the game in progress, beginning its television coverage after the conclusion of Davis Cup tennis, at approximately 19:30. The game will be available in its entirety, however, online at the station's website
ct24.cz/sport
.
(1) Oceláři Třinec vs (8) Benzina Litvínov
Some people might think that Benzina Litvínov has absolutely no chance in this series. However, it should be remembered that they just knocked off a Plzeň team that would have tied Oceláři Třinec for first place had they not been penalized 19 points by the league. The team has had a different attitude since a late-season coaching change. Like Slavia, they will also be looking to get off to a good start against an opponent that has had an extended layoff of 12 days.
But to bet against Třinec might be hasty. They had, by far, the best offence in the league, scoring 178 goals in 52 games for a 3.42 average. Leading their charge was
Martin Růžička
(no relation to the Pardubice goaltender of the same name) and
Radek Bonk
. They placed six scorers in the top 22 in the league, giving them good scoring depth. Their checking line is centred by
Bryan McGregor
of Niagra Falls, ON, and at the back end, they are led by
Lukáš Zíb
and
Lukáš Krajiček
. In goal,
Peter Hamerlík
led the league with 6 shutouts in only 34 games.
Litvínov will hope to get
Martin Ručinský
back into the lineup this series, but not at the start and there are no guarantees it will happen at all.