Eaton Pardubice has become the first team in the Czech Extraliga to move within a game of advancing to the league semi-finals with a shootout win on home ice over PSG Zlín. They now lead the series 3-0, while Vitkovice leads 2-1 over České Budějovice. Třinec leads Litvínov 2-0 and Liberec and Slavia are tied 1-1, with third games in each series going Wednesday night.
Eaton Pardubice 2-1 PSG Zlín (shootout)
(Pardubice leads best-of-seven series 3-0.)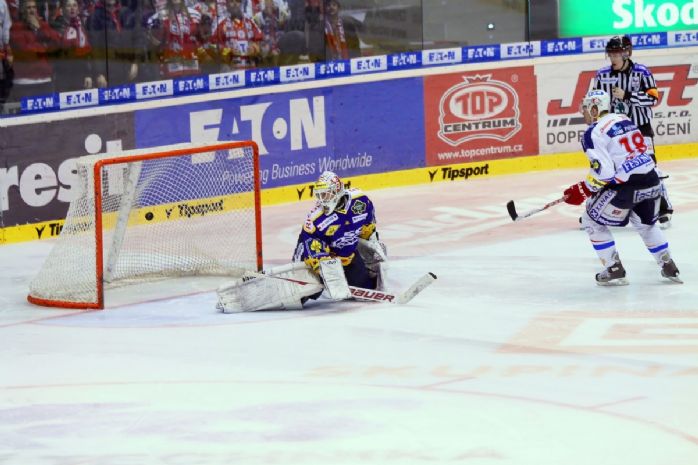 Pardubice's Martin Bartek scoring the shootout winner in game 3.
Photo: Jan Jedlička, hcpce.cz.
It hasn't been as easy for Pardubice as the series score suggests, with two of their three victories so far coming in extra time. They won game 1 in overtime and then game 3 in a shootout. They have a chance to wrap up the series on home ice on Tuesday.
Tomáš Duba
has done all he can to keep Zlín in the games, but it hasn't been enough to get them a victory. On Tuesday, he stopped 49 of 50 shots in 70 minutes of hockey, then stopped 2 shootout attempts before being beaten for the game-winning shot by
Martin Bartek
on Pardubice's third attempt. Bartek also scored the overtime winner in game 1.
Pardubice has now won 15 consecutive playoff games, dating back to last year's quarterfinals, and have a chance for their third-straight series sweep on Tuesday night. The game begins in Pardubice at 18:10.
Vítkovice Steel 3-0 Mountfield České Budějovice
(Vítkovice leads best-of-seven series 2-1.)
Viktor Ujčík
scored a goal and an assist and
Roman Málek
stopped all 21 shots he faced as Vítkovice went up 2-1 in its series with České Budějovice. Due to the bizzare series format that was caused by the Davis Cup invading Víktovice's home arena, they now have the next two games at home, and appear to be in a favourable position.
Game 4 goes Tuesday night at 17:40 on ČT4 television and online at
ct24.cz/sport
. The teams will then get two days off before playing the fifth game on Friday.
Oceláři Třinec 3-2 Benzina Litvínov
(Třinec leads best-of-seven series 2-0.)
Linesmen attempt to separate Třinec's David Květon (top) and
Litvínov's Karel Kubát in a rough game 3. Photo: Marian Ježowicz,
hcocelari.cz.
In other series, Oceláři Třinec is in the driver's seat against Benzina Litvínov, winning each of its two games at home. The first game was a 6-0 white-washing, in which
Peter Hamerlík
added to his league-leading 6 shutouts during the season with one in his first playoff game. It looked like Litvínov might turn the tables in game 2, jumping out to a 2-0 first-period lead, but Třinec came back to win 3-2.
Radek Bonk
scored 2 goals and added an assist.
Less than 3 minutes after he scored to give Litvínov a 2-0 lead,
Peter Janský
was thrown out of the game when he knocked out Třinec's
Josef Hrabal
with a vicious check to the head. The match penalty he incurred means an automatic one-game suspension, with further disciplinary action yet to be announced. Bonk scored his first of two goals on the ensuing power-play, which was actually a two-man adavantage.
Bílí Tygři Liberec 5-1 Slavia Praha
(Best-of-seven series tied 1-1.)
Bílí Tygři Liberec blew a 4-2 lead in game 1, losing 5-4 as
Lukáš Endál
scored the game winner for Slavia Praha with 3:35 left in regulation time. The home side bounced back with a strong performance in game 2, winning 5-1.
Disciplinary action is the talk of this series as well, as Slavia's
Jiří Dolezal
kneed Liberec's
Petr Nedvěd
in the third period, which was followed by a fight between Dolezal and
Andrej Podkonický
. Incensed, Liberec coach
Jiří Kalous
stepped onto the ice in an apparent effort to confront Dolezal, though he didn't get near him. Nedvěd, who threw a water bottle at the Slavia bench in anger as he left the ice, was taken to hospital after the game and his status for Wednesday's game is unknown. Both sides are requesting disciplinary action against opposing players for the incident.