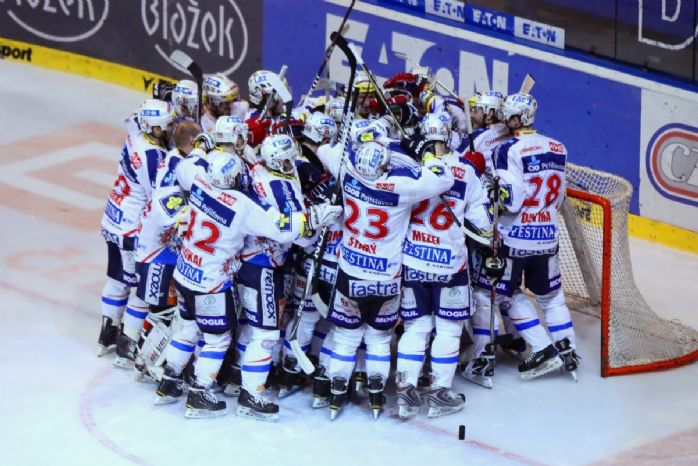 Pardubice celebrates its 16th straight playoff win and third
straight sweep. Photo: Jan Jedlička, hcpce.cz.
The winning streak for HC Eaton Pardubice continued on Wednesday night, when they defeated PSG Zlín 6-2 to complete a four-game sweep of their quarterfinal series. For Pardubice, it was their sixteenth straight playoff win and third straight series sweep, dating back to last season. However, the players are best not to get caught up in this significant run, instead concentrating on what lies ahead of them.
"At this point we've won four," team captain Petr Koukal said on the team's website, when asked of the significance of 16 straight wins. "
As our coach tells us, what happened last year is simply in the past.
It's a nice lead, we won four games, but in the next series it won't do us any good .
. .
We start the semifinals 0-0."
The 6-2 score is somewhat misleading, as it was 2-2 at the game's midway point and still only 3-2 with six minutes to play, before Pardubice scored 3 late goals to ice the series.
Jan Starý
had 2 assists in the game and finished the series with 7 points, which makes him the overall playoff leader. With a goals-against average of 1.86 in the series,
Martin Růžička
is more than filling the shoes left by the departure of
Dominik Hašek
, who backstopped them to last year's championship.
"He didn't allow a cheap goal the entire series, which certainly a confidence-booster," Koukal said of his goaltender. "Any team that wants to succeed has to have a good goalie, they always say."
Pardubice will now have at least 10 days off before the start of the semi-finals, with their opponent still obviously unknown.
In other quarter-final action, the Vítkovice-České Budějovice series doesn't show any signs of ending soon, as Mountfield won a must-win game to knot the series at 2 wins apeice. It didn't come easy, though.
Goals by
Michal Kolarz
and
František Ptáček
gave the visitors a 2-0 lead through 2 periods, but Vítkovice applied incredible pressure in the third.
Lukáš Klimek
cut the lead in half at 10:49 and then, just 26 seconds later, it appeared that they might have tied the game when a shot came close to the goal as Mountfield defenceman
Jakub Šulc
dislodged it. Video replay determined that it was no goal, but Šulc was assessed a delay-of-game penalty. Vítkovice had a 35-second two-man advantage when
Jiří Vykoukal
was sent off for hooking, but they couldn't convert. An empty-netter made it a 3-1 final.
The series will now certainly return to Budějovice for a sixth game on Sunday, after they play a fifth game Friday. As the Zlín-Pardubice series is now finished, it will be the only game each night, so it is expected that both games will be televised by ČT4 Sport television and
www.ct24.cz/sport
.