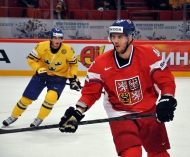 The Czech Republic is off to a 1-1 start at the World Championships, starting with a less-than-impressive 2-0 win over Denmark, followed by a 4-1 loss to the host Swedes. After the second game,
Eurohockey.com
's David Schlegel asked
David Krejčí
of the Boston Bruins to evaluate his team's performance so far and the outlook for the rest of the tournament.
What do you think about your team's performance against Sweden?
I think we played a better game than against Denmark. Now we still have plenty of games before the quarterfinals. We need to get better and better.
The first half of the game against Sweden was very bad, then you improved. Why did it take so long?
We had some chances and managed to score. That woke us up, but we were unable to turn the game around.
What was the game plan? Did you want to play more defensively?
We wanted to play well on defence and to play our game. However, we allowed the first goal very early and that changed our game. I still think it was not that bad. We are still finding each other on ice; we need more games to play together. We definitely played better than against the Danes. We have a strong team and we will keep improving.
How about the power play? It has been miserable so far.
Yes, it is not perfect. We need to shoot a lot more and play smarter. When you can shoot without being blocked, you have to try it. So far, we have had one good power play. However, I felt we played them better than against the Danes.
What do you think about the big ice rink? Is it suitable for you?
There is much more space here. At the beginning, I received the pass and looked around wondering what I was going to do with the puck. We have much more time. In the upcoming games, I will try to be more creative and hold onto the puck more before passing.
The Swedes showed that they are one of the best teams in the tournament. Do you agree?
Yes, I think so. They have a lot of stars from the NHL, but we still were able to create some chances. They were luckier as well. We need to stay positive, because it was not that bad. We did not score many goals, but I hope the luck will come to us in another game.
In the first game against the Danes, your winger was Aleš Hemský; against Sweden, it was changed to Petr Průcha. What do you think about this change?
Yes, it was a big change, as both play a very different kind of hockey. Průcha is a technically skilled player, and we had some chances against Sweden. Pruchic (Průcha) had two nice shots, but no goals.
Will you discuss with left winger Milan Michálek about what to improve?
We also will sit down with our defencemen and have a talk. We need to skate better, mainly me. We want to win the whole thing. It is not usual to win the tournament without a loss.
The stands were quite empty against Denmark: about one thousand fans. Was it a shock for you?
It was very weird. So few people, big ice rink. We came to play here and the arena and city is still not ready for the championship. The organizers have to get things ready. On Saturday more people came. Yes, they supported the Swedes, but the atmosphere was good. And the hockey as well.
Do you think more people will come also to the game against Norway?
I think we expect that the attendance will be low again. We will be ready for it this time.
Are you ready to win the gold medal? You played a long playoff series against Washington.
I've played a lot of games this season, but here it is little bit different hockey. Physically, I feel well and I hope that we will be successful.
Eurohockey.com
is providing full coverage of the 2012 IIHF World Championship, live on location from Helsinki and Stockholm.