Petr Polák and Derek O'Brien
Eurohockey.com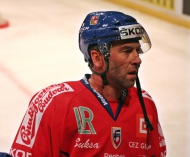 Forty-year-old forward
Petr Nedvěd
took home two awards from Tuesday's gala in Prague, making him the second-oldest to win the Player-of-the-Year award in the Czech Republic.
Only one player older than the Liberec forward has ever won the award. In 2010, Pardubice goaltender Dominik Hašek did it when he was 45. In addition to the MVP, Nedvěd was officially recognized as the league's leading scorer of the regular season for his 61 points in 49 games.

"It's a kind of satisfaction to me," said Nedvěd, currently preparing with the Team Czech Republic for his first World Championship.
In addition to Nedvěd, another notable winner was Slavia Praha's Tomáš Hertl, who won the league's rookie of the year award. The 18-year-old, who led all junior-aged players in the Extraliga with 25 points in 38 games, is projected to be a first-round pick in this year's NHL Entry Draft.
Below is a full list of winners at Tuesday's gala:
Award/Player/Team
| | | |
| --- | --- | --- |
| Player of the Year | Petr Nedvěd | Liberec |
| Václav Pecina Award | Petr Koukal | Pardubice |
| Top Goal Scorer | Petr Kumstát (27) | Karlovy Vary |
| Top Point Scorer | Petr Nedvěd (61) | Liberec |
| Rookie of the Year | Tomáš Hertl | Slavia Praha |
| Best Goaltender | Jiří Trvaj | Kometa Brno |
| Best Defenceman | Jan Kolář | Pardubice |
| Most Gentlemanly Player | Viktor Ujčík | Vítkovice |
| Golden Helmet ** | Jiří Burger | Vítkovice |
| BPA Award *** | Tomáš Pöpperle | Sparta Praha |
| Coach of the Year | Zdeněk Venera | Kometa Brno |
| Best Referee | Vladimír Šindler | - |
| Extraliga Champions | - | Pardubice |
| President's Trophy | - | Sparta Praha |
| 1. Liga champion | - | Chomutov |