The IIHF has released attendance figures for the 2011-12 hockey season, and 11 Czech teams finished in the top 100 in Europe.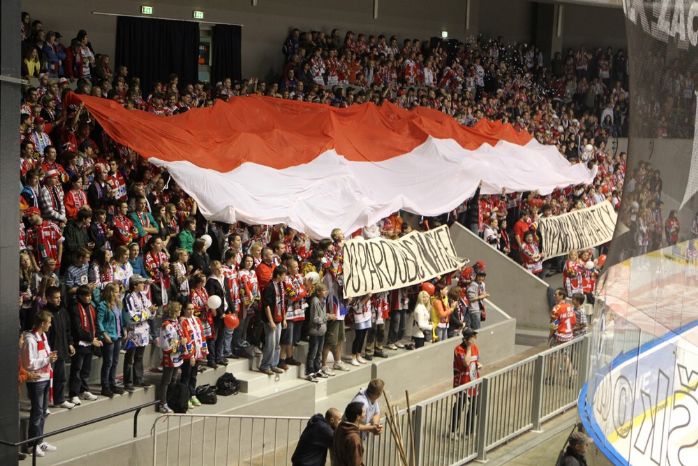 Once again, Pardubice led the Extraliga in home attendance.
Photo: hcpce.cz.
Leading the way, as usual, was Pardubice, who drew 217 867 fans to 26 home games at ČEZ Arena, for an average of 8380 per game, which ranks 13th on the continent. That's a drop of 542 per game from
last season, when their home attendance ranked 9th in Europe
. However, last year's total was inflated by the
Open Air Game on January 2, 2011
, when 17 140 watched Pardubice play Kometa Brno outdoors at Pardubice-Svítkov Speedway.
Like last year, Brno ranks 2nd in the Czech Republic. Their average of 6960 was 23rd best in Europe.
The biggest increase in the Czech Republic was recorded by Sparta Praha, which was doubtlessly due to the club's rise from 12th in the Extraliga standngs to first this year. In 2010-11, Sparta averaged 5165 fans per home game, which was 45th in Europe. This year, 6273 per game came to Tipsport Arena, third-best in the country and 29th in Europe.
Across town, Slavia Praha went the opposite direction in the standings and, not surprisingly, in attendance as well. Their average dropped from 5012 per game to only 4492 at the cavernous O2 Arena, leading to a return to the smaller Eden Arena for the playout round and fueling speculation of a full-time return to their former home in the future.
Overall, the Extraliga was the sixth-most attended league in Europe, attracting 4824 fans per game, a slight drop from last year's 4936.
The Czech First League averaged 1130 fans per game, which was 18th-best in Europe. Not surprisingly, the two most popular First League teams are the two best: Piráti Chomutov averaged 2273 per game and Slovan Ústečtí Lvi averaged 2099.
Below are the attendance figures released by the IIHF. Additional statistical information is courtesy
hokej.cz
.
Attendance figures in European hockey leagues 2011-12




Club

League

Average

Cap. %

1.

(1.)

SC Bern

SUI

15,779

92.11%

2.

(3.)

Dynamo Minsk

KHL

14,193

94.08%

3.

(2.)

Eisbären Berlin

GER

14,073

99.11%

4.

(4.)

Kölner Haie

GER

10,494

56.72%

5.

(6.)

Frölunda Gothenburg

SWE

10,482

87.03%

6.

(11.)

SKA St. Petersburg

KHL

10,126

81.01%

7.

(5.)

Adler Mannheim

GER

10,018

73.66%

8.

(20.)

Hamburg Freezers

GER

9,221

72.02%

9.

(10.)

Jokerit Helsinki

FIN

9,173

67.13%

10.

(7.)

Avangard Omsk

KHL

9,143

88.61%

11.

(8.)

Lokomotiv Yaroslavl

VHL

8,961

98.80%

12.

(13.)

Medvescak Zagreb

EBEL

8,835

96.50%

13.

(9.)

HC Pardubice

CZE

8,380

82.21%

14.

(26.)

HIFK Helsinki

FIN

8,284

102.02%

15.

(12.)

Salavat Yulayev Ufa

KHL

7,950

100.00%

16.

(15.)

Dinamo Riga

KHL

7,733

75.08%

17.

(16.)

Djurgården Stockholm

SWE

7,723

95.42%

18.

(14.)

ZSC Lions Zurich

SUI

7,625

71.26%

19.

(18.)

Traktor Chelyabinsk

KHL

7,337

97.83%

20.

(22.)

HV71 Jönköping

SWE

7,232

103.31%

21.

(19.)

Amur Khabarovsk

KHL

7,100

22.

(27.)

Met. Magnitogorsk

KHL

7,035

23.

(17.)

Kometa Brno

CZE

6,960

24.

(26.)

Linköpings HC

SWE

6,903

25.

(21.)

Genève-Servette

SUI

6,769

26.

(25.)

Fribourg-Gottéron

SUI

6,636

27.

(23.)

Färjestad Karlstad

SWE

6,589

28.

(32.)

Atlant Mytischi

KHL

6,278

29.

(45.)

Sparta Praha

CZE

6,273

30.

(29.)

EV Zug

SUI

6,265

31.

(35.)

Brynäs Gävle

SWE

6,265

32.

(30.)

MODO Örnsköldsvik

SWE

6,119

33.

(64.)

Malmö Redhawks

SWE-2

6,072

34.

(34.)

Kloten Flyers

SUI

6,041

35.

(28.)

Sibir Novosibirsk

KHL

5,918

36.

(114.)

Slovan Bratislava

SVK

5,907

37.

(37.)

Kärpät Oulu

FIN

5,821

38.

(33.)

HC Košice

SVK

5,678

39.

(31.)

HC Plzeň 1929

CZE

5,584

40.

(40.)

TPS Turku

FIN

5,534

41.

(52.)

Torpedo N. Novgorod

KHL

5,481

42.

(36.)

AIK Stockholm

SWE

5,450

43.

(51.)

Tappara Tampere

FIN

5,358

44.

(41.)

SCL Tigers Langnau

SUI

5,290

45.

(44.)

DEG Metro Stars

GER

5,225

46.

(42.)

Ilves Tampere

FIN

5,208

47.

(43.)

Luleå HF

SWE

5,154

48.

(39.)

Bílí Tygři Liberec

CZE

5,140

49.

(112.)

Växjö Lakers

SWE

5,099

50.

(50.)

Skellefteå AIK

SWE

5,078

51.

(46.)

Neft. Nizhnekamsk

KHL

5,037

52.

(81.)

Vienna Capitals

EBEL

4,906

53.

(54.)

Ak Bars Kazan

RUS

4,876

54.

(47.)

HC Vítkovice Steel

CZE

4,867

55.

(103.)

Met. Novokuznetsk

KHL

4,822

56.

(65.)

Straubing Tigers

GER

4,820

57.

(53.)

Leksands IF

SWE-2

4,820

58.

(66.)

Lausanne HC

SUI-2

4,798

59.

(59.)

Ässät Pori

FIN

4,781

60.

(80.)

Pelicans Lahti

FIN

4,750

61.

(60.)

EHC Biel

SUI

4,749

62.

(62.)

Nottingham Panthers

GBR

4,694

63.

(58.)

PSG Zlín

CZE

4,553

64.

(93.)

Sev. Cherepovets

RUS

4,548

65.

(61.)

HC Davos

SUI

4,544

66.

(49.)

Timrå IK

SWE

4,523

67.

(72.)

Yuzhny Ural Orsk

RUS-2

4,493

68.

(48.)

Slavia Praha

CZE

4,492

69.

(63.)

Krefeld Pinguine

GER

4,486

70.

(69.)

KAC Klagenfurt

EBEL

4,343

71.

(62.)

HC Litvínov

CZE

4,336

72.

(56.)

HC České Budějovice

CZE

4,319

73.

(-.)

HC Lev Poprad

KHL

4,313

74.

(-.)

Kassel Huskies

GER-3

4,293

75.

(91.)

Augsburger Panther

GER

4,267

76.

(77.)

KalPa Kuopio

FIN

4,170

77.

(67.)

Rapperswil-Jona

SUI

4,135

78.

(75.)

HC Lugano

SUI

4,125

79.

(90.)

Iserlohn Roosters

GER

4,124

80.

(57.)

Nürnberg Ice Tigers

GER

4,112

81.

(-.)

Löwen Frankfurt

GER-3

4,056

82.

(95.)

Yermak Angarsk

VHL

4,036

83.

(38.)

UHC Dynamo Moscow

KHL

4,026

84.

(76.)

JYP Jyväskylä

FIN

3,975

85.

(97.)

Khanty-Mansisk

VHL

3,937

86.

(87.)

Belfast Giants

GBR

3,898

87.

(82.)

ERC Ingolstadt

GER

3,854

88.

(78.)

Lukko Rauma

FIN

3,849

89.

(70.)

Hannover Scorpions

GER

3,847

90.

(79.)

EHC München

GER

3,843

91.

(55.)

Barys Astana

KHL

3,756

92.

(84.)

HC Ambrì-Piotta

SUI

3,707

93.

(68.)

Espoo Blues

FIN

3,682

94.

(-.)

Donbass Donetsk

VHL

3,556

95.

(73.)

Yekaterinburg

KHL

3,550

96.

(125.)

Black Wings Linz

EBEL

3,512

97.

(94.)

HPK Hämeenlinna

FIN

3,480

98.

(83.)

Oceláři Třinec

CZE

3,444

99.

(102.)

Fehervar AV19

EBEL

3,437

100.

(88.)

VSV Villach

EBEL

3,422
Regular-Season average attendance Europe & Asia




League

Attendance

1.

Sweden - Elitserien

6,385

2.

Switzerland - National League A

6,305

3.

Germany - Deutsche Eishockey Liga

6,060

4.

Russia - Kontinental Hockey League

5,891

5.

Finland - SM-liiga

5,103

6.

Czech Republic - Extraliga

4,824

7.

Austria - EBEL

3,606

8.

Slovakia - Extraliga

2,687

9.

Great Britain - Elite Ice Hockey League

2,028

10.

Norway - Get Ligaen

1,462

11.

France - Ligue Magnus

1,391

12.

Denmark - AL-Bank Liga

1,301

13.

Belarus - Extraliga

1,111

14.

Asia League (CHN/KOR/JPN)

1,024

15.

Italy - Serie A

987


Regular-Season average attendance 2nd-tier leagues Europe




League

Attendance

1.

Sweden - Allsvenskan

2,606

2.

Germany - 2. Bundesliga

2,303

3.

Russia - VHL

2,252

4.

Switzerland - National League B

2,112

5.

Finland - Mestis

1,172

6.

Czech Republic - 1. liga

1,130
Five largest crowds in Czech Extralga history:
OpenAir Hockey, January 2, 2011:
HC Eaton Pardubice – HC Kometa Brno: 17,140
Game 7, 2008 Extraliga Finals:
HC Slavia Praha – HC Energie Karlovy Vary: 17,123
Game 4, 2009 Extraliga Finals:
HC Slavia Praha – HC Energie Karlovy Vary: 16,730
Game 5, 2008 Extraliga Finals:
HC Slavia Praha – HC Energie Karlovy Vary: 16,617
Game 5, 2006 Extraliga Finals:
HC Slavia Praha – HC Sparta Praha: 16,182