While some Czech teams have struggled in European Trophy competition, others have flourished.
EuropeanTrophy.com
's Per Csongrádi examines the fortunes of two clubs, HC Plzeň 1929 and HC Mountfield České Budějovice, who are currently poised to take the top two spots in the East Division and advance to the Red Bull Salute: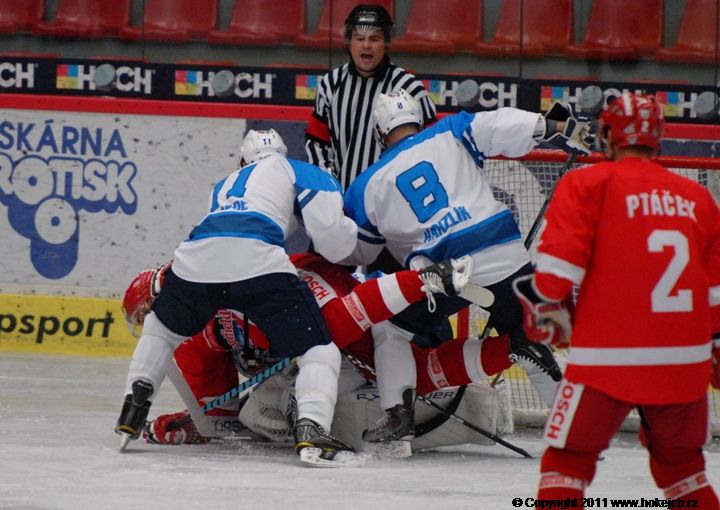 Plzeň (white) and Mountfield (red) battling in their European Trophy
opener in České Budějovice on August 12. Photo: František Panec,
hokejcb.cz
.
Plzeň took over the top of the table on Sunday after defeating Finnish team Tappara 4–0 at home and are in a good position to go through, having two games left to play. "We look to be in one of the two top positions when we sum up the group, but it is still a tough battle between three, or even four teams, as to which teams will make it to the play-off," says Plzeň forward
Tomáš Vlasák
.
Plzen could have been in an even stronger position had they won Saturday's game at home to Slovan Bratislava, a game the Slovaks won in a penalty shootout. That win handed them a lifeline in the race for a place in Salzburg and Vienna mid-December.
But after having won their first four games in the tournament, all four played at home in Bratislava where they picked up 11 out of a possible 12 points, the Slovaks have struggled to repeat those performances away from home. Now they have a tough task ahead of them if they are to pick up the necessary points to finish in the top-two. They play Jokerit away in their only remaining game of the tournament.
And it might not even be enough with a win in Helsinki. The second Czech team in the division, HC Mountfield, is only 1 point behind Slovan Bratislava having played two games less and having recorded a vital win at home to Slovan Bratislava (2–1) last Thursday. Mountfield now have four straight wins after losing the opening game to Plzeň in overtime, and are feeling good about themselves heading into their last three games. "We are very pleased with the way that we have played so far and we hope we can pick up a few more points, enough to secure a place in the playoff," says defenceman
Jan Novák
.
Plzeň and Mountfield must be considered favourites to take the top two spots. They are the only two teams in the tournament that haven't lost a game after 60 minutes so far.
If they start picking up some points, Finnish side KalPa still has a remote chance of advancing. KalPa also have three games left, but probably have to win all three in order to have any chance of reaching the Red Bull Salute.
Fellow Finns Oulun Kärpät also have 8 points, but only have one game left and no chance of reaching the playoff. The same applies to Vienna Capitals with 4 points and only one game left.
Stats and schedule:
1. HC Plzeň 1929 – 14 points (21–10)
Remaining games:
31/8: Slavia Praha (a), 6/9: HC ČSOB Pojišťovna Pardubice (h).
2. Slovan Bratislava – 13 points (23–13)
Remaining game:
3/9: Jokerit (a).
3. HC Mountfield – 12 points (13–7)
Remaining games:
1/9: Red Bull Salzburg (a), 3/9: Kometa Brno (a), 6/9: Sparta Praha (h).
4. KalPa – 8 points (10–12)
Remaining games:
31/8: Oulun Kärpät (h), 3/9: Frölunda Indians (a), 4/9: HV71 (a).
5. Oulun Kärpät – 8 points (17–20)
Remaining game:
31/8: KalPa (a).
6. Vienna Capitals – 4 points (14–28)
Remaining game:
3/9: HIFK (a).
More information on the tournament is available at
EuropeanTrophy.com
.