Along with players from the nine other European countries that will be sending team's to the men's hockey tournament at the Winter Olympics, this weekend's international break represents the last chance Czechs based in Europe will have a chance to play together for
Alois Hadamczik
and his national team coaching staff and try to earn a coveted roster spot.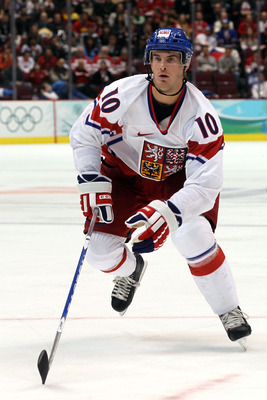 Roman Červenka is looking to make a return
trip to the Winter Olympics.
Photo: bleacherreport.com.
What makes this weekend's Channel One Cup so competitive for the Czechs and the other three countries there is that they are not only competing against each other, but also against numerous players who are currently in the NHL. How many spots are available to European-based players is tough to say, but they will be limited.
"There are a lot of quality players, both here in Europe and overseas,"
Jiří Novotný
told
LevPraha.com
's Karolina Antošová. An experienced international player who has twice captained the Czech team at the World Championships, Novotný was asked his chances of making the Olympic squad, to which he responded: "I think everyone on the roster has a chance. Maybe I'll know more after this tournament."
The roster of 25 players, which Novotný was referring to, contains a lot of familiar names:
Goaltenders: Alexandr Salák (St Petersburg, KHL), Jakub Kovář (Yekaterinburg, KHL).
Defencemen: Petr Čáslava (Cherepovets, KHL), Ondřej Němec, Martin Ševc (both Lev Praha, KHL), Tomáš Kaberle (Rytíři Kladno), Lukáš Krajíček (Dinamo Minsk, KHL), Tomáš Mojžíš (Slovan Bratislava, KHL), Michal Barinka (HC Vítkovice Steel), Petr Zámorský (PSG Zlín).
Forwards: Roman Červenka (St Petersburg, KHL), Jan Kovář (Magnitogorsk, KHL), Tomáš Vincour (Kazan, KHL), Jiří Novotný, Jiří Sekáč (both Lev Praha, KHL), Zbyněk Irgl (Dinamo Minsk, KHL), Michal Vondrka (Slovan Bratislava, KHL), Petr Nedvěd (Bílí Tygři Liberec), Jaroslav Hlinka, Jan Buchtele (both HC Sparta Praha), Jiří Šimánek (Mountfield Hradec Králové), Robert Kousal, Tomáš Nosek, Lukáš Radil (all HC ČSOB Pojišťovna Pardubice).
There's an abundance of international experience on that list, but only three have Olympic experience.
Tomáš Kaberle
has played twice -- 2002 in Salt Lake City and 2006 in Turin, and two others have played once:
Roman Červenka
played for the Czechs in Vancouver four years ago and, incredibly,
Petr Nedvěd
played for Canada in Lillehammer 20 years ago.
Of the three, Červenka probably has the best chance of returning. In 2010 he was a 24-year-old centre in the midst of scoring 30 goals in 50 Czech Extraliga games. Four years later, following a couple of productive years in the KHL and a brief stint in the NHL before a return to the wider KHL ice, where he has more success, he has 29 points in 37 games as a play-making winger. His flexibility should work to his advantage.
"Over the last four years I have played various roles, so it won't be major problem," Červenka said to hokej.cz, when the topic about where he could fit in with the team was brought up. As with most players, though, he wanted to talk more about this weekend. "Everyone knows that the team will be named soon, but if you start thinking that if you don't play well in this tournament you're not going to Sochi, you can really mess yourself up."
Like the Olympic tournament itself, the majority of the Channel One Cup will be played in Sochi, Russia, but one game between the Czech Republic and Finland will be played at O2 Arena in Prague, which will give Czech hockey fans a chance to see Olympic hopefuls from the two countries.
"A lot of people will come to Prague to watch us, and we want to win for them," Červenka added.
The Czechs will go with three forward lines and seven defencemen for Thursday's game against Finland, with Jakub Kovař starting in goal. Both he and Alexandr Salák are expected to get in games this weekend. While Ondřej Pavelec is expected to be the Czech starting goalie in the Olympics, the door is open for one of these two, or possibly both, to make the roster as a number two or number three. Kovař isn't admitting to any pressure, though.
"From my own experience, I know that too much does not depend on one game," Thursday's starting goalie coolly explained. "I've been on the national team a few times before. The Olympics are obviously something else, but one game or one goal against won't decide it for me. I'll wait til I'm notified by the coaches."
Winger
Zbyněk Irgl
will not play on Thursday due to a lower-body injury, but might play on the weekend in Sochi. Kaberle will only play in Prague, then fly overseas to be with his family. According to
hokej.cz
, the Czech Republic's roster on Thursday will be the following:
Jakub Kovář, Salák - Kaberle, Ševc, Krajíček, Barinka, Němec, Čáslava, Zámorský, Mojžíš - Nedvěd, Hlinka, Červenka - Sekáč, Jan Kovář, Vondrka - Vincour, Novotný, Šimánek - Buchtele, Kousal, Nosek.
Schedule for the 2013 Channel One Cup:
16:00 Russia - Sweden (Sochi)
18:30 Czech Republic - Finland (O2 Arena, Prague)
11:00 Russia - Finland (Sochi)
16:00 Czech Republic - Sweden (Sochi)
11:00 Russia - Czech Republic (Sochi)
16:00 Finland - Sweden (Sochi)
All times Central European. Live play-by-play commentary of all games will be available at Eurolivescores.com.