The Euro Hockey Tour is an annual series of four tournaments hosted by the four top nations in European hockey, Finland, Russia, Sweden and the Czech Republic, at various points in the year. Its purpose is to give European-based players some international experience and the opportunity to audition for coveted roster spots in the IIHF World Championships, which are held at the end of the year.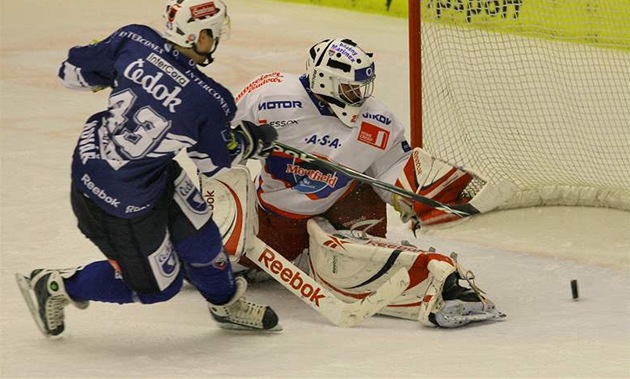 Often enemies on the ice, brothers Jan (#43) and Jakub (goalie)
Kovář will be teammates at the upcoming Oddset Hockey Games.
Photo: Slavomír Kubeš, MF DNES.
On Thursday, the third leg of the 2011-12 Tour, the Oddset Hockey Games, will begin in Stockholm and Helsinki, coincidentally the two cities that will co-host the next two World Championships. The Czech Republic will play Sweden that day, followed by Finland on Saturday and Russia on Sunday. All three of their games will be in the Swedish capital.
For this third tournament, the Czech roster features somewhat of a hybrid of the first two, with some new additions as well.
The rosters for the first two tour stops were quite different
, which was due to injuries and also to the fact that players from the
three Czech teams that were competing in the Red Bull Salute the same weekend
were not available. After going
0-3 at the Karjala Cup in November
, the team finished
second place at the Channel One Cup in December
, and some strong performances in that tournament have resulted in return invitations.
One of those is in goal, where
Tomáš Pöpperle
, a substitution for
Jakub Kovář
, whose České Budějovice club was in the Red Bull Salute, was solid in a victory over Finland. This time around, Pöpperle and Kovař will form the goaltending duo, with
Jakub Štěpánek
, the team's starting goalie in the first two tournaments, being given the week off.
"We agreed that Jakub would play in two events, and then give an opportunity to Pöpperle and Kovař," explained coach
Alois Hadamczik
. Štěpánek is widely considered to be the best Czech goaltender outside the NHL, while Pöpperle and Kovař have consistently been the best in the domestic circuit over the past couple of seasons. Pöpperle has been spectacular this season for first-place Sparta Praha. With an NHL goaltender, possibly
Tomáš Vokoun
,
Michal Neuwirth
or
Ondřej Pavelec
, likely to take at least one roster spot in the final leg of the EHT, which will be played in Brno in April, and then the World Championships afterward, competition among goaltenders is fierce.
In fact, giving as many players as possible the chance to audition is a common theme: only defenceman
Jakub Nakládal
and forwards
Petr Průcha
,
Zbyněk Irgl
,
Jakub Klepiš
and
Petr Hubáček
are returning for a third go-around. Being given their first opportunities of the season are defencemen
Michal Barinka
and
Jan Kolář
and forwards
Tomáš Netík
, who spent most of the season with the KHL's Lev Poprad,
Michal Vondrka
,
Jan Kolář
(no relation to the defenceman of the same name on the team) and
Jan Kovář
, goaltender Jakub's younger brother.
Though the brothers Kovář have both worn Czech national colours before, this will be the first time that they will play together. "It's an experience not only for us but for the whole family," said Jakub. Meanwhile, Jan says that by playing together they "will fulfill (their) dream".
As is often the case, injuries are the cause of some of the absences, with defencemen Lukáš Krajiček, Miroslav Blaťak, Martin Škoula, Petr Čáslava and Filip Novák and forwards Roman Červenka and Petr Vrána all out with various ailments. Some of these are more precautionary than anything, with playoffs looming in various leagues.
The captains of each previous team, Petr Nedvěd and Tomáš Rolinek, will both be on this team, with Rolinek retaining the captaincy from the Moscow tournament. In choosing the captain, Hadamczik said, "Petr is an experienced player looking forward to meeting everyone. He wants to play, whether captain or not. (Rolinek) has had success with the national team, so no need to change anything. Petr Nedvěd can certainly command respect with his experience and age."
He won't be captain this time, but Petr Nedvěd will once again play
for the Czech nats. Photo: Håkan Nordström, AP.
Nedvěd, 40,
made news in November when he represented the Czech Republic for the first time since September 1996
, and led the team with three goals in three games. "In Finland, I was pleasantly surprised that I could skate at that level. I was good enough for them, which is positive. Before that, I was not quite sure, because the speed and commitment at the higher level."
Currently the leading scorer in the Extraliga with 56 points, it would certainly be a story if he were to earn a spot in his first-ever World Championship. "It's not worth speculating about the World Championships right now. A lot of factors still have to be accounted for: how many players come from the NHL, how we do in the Extraliga with Liberec, and the like. Of course, I'll try. I'll give it my best and then we'll see what happens."
Below is the Czech roster for the 2011-12 for the Oddset Hockey Games, followed by the tournament schedule. The information, as well as quotes above, are courtesy
hokej.cz
. The current Euro Hockey Tour standings are from
eht.cz
.
Goaltenders:
Jakub Kovář (HC Mountfield České Budějovice), Tomáš Pöpperle (HC Sparta Praha).
Defencemen:
Ondřej Němec (Cherepovets, KHL), Michal Barinka (Fribourg, Switzerland), Zdeněk Kutlák (Ambri-Piotta, Switzerland), Jakub Nakládal (Ufa, KHL), Tomáš Mojžíš (Turku, Finland), Jakub Krejčík (HC Slavia Praha), Jan Kolář II (HC ČSOB Pojišťovna Pardubice).
Forwards:
Tomáš Rolinek (Magnitogorsk, KHL), Petr Průcha (St. Petersburg, KHL), Zbyněk Irgl (Minsk, KHL), Jakub Klepiš (Dynamo Moscow, KHL), Lukáš Kašpar, Kamil Kreps, Jiří Novotný (all Astana, KHL), Petr Hubáček (Jyväskylä, Finland), Tomáš Netík (Växjö, Sweden), Petr Nedvěd (Bílí Tygři Liberec), Michal Vondrka (HC Slavia Praha), Petr Koukal, Jan Kolář I (both HC ČSOB Pojišťovna Pardubice), Jan Kovář (HC Plzeň 1929).
Head Coach: Alois Hadamczik
Assistant Coach: Josef Paleček
General Manager: Slavomír Lener
Team Manager: Jan Černý
Video Coach: Jan Procházka
Team Doctor: Dr. Zdeněk Ziegelbauer
Physiotherapist: Michal Truc
Treasurer and Trainer: Zdeněk Šmíd
Trainer: Petr Ondráček
Media Consultant: Zdeněk Zikmund
Schedule for the 2012 Oddset Hockey Games:
Thursday, February 9:
17:30 Finland - Russia (Helsinki)
19:00 Sweden - Czech Republic (Stockholm, ČT4 Sport)
Saturday, February 11:
12:00 Czech Republic - Finland (Stockholm, ČT4 Sport)
16:30 Sweden - Russia (Stockholm, ČT4 Sport, tape-delayed to 20:40)
Sunday, February 12:
12:00 Czech Republic - Russia (Stockholm, ČT4 Sport)
15:30 Sweden - Finland (Stockholm, ČT4 Sport, tape-delayed to 19:20)
2011-12 Euro Hockey Tour Standings, after two of four events:
 # | Team            |  W | OW | OL |  L | GF:GA | Pts |
 1 | Russia          |  3 |  1 |  1 |  1 | 16:11 |  12 |
 2 | Sweden          |  3 |  0 |  0 |  3 | 16:19 |   9 |
 3 | 

Czech Republic

  |  2 |  1 |  0 |  3 | 16:14 |   8 |
 4 | Finland         |  2 |  0 |  1 |  3 | 13:17 |   7 |