"This is the darkest day in the history of our sport. This is not only a Russian tragedy, the Lokomotiv roster included players and coaches from ten nations."
Patrik Eliáš was among the many mourners who attended a
memorial at Prague's Old Town Square for the victims of the
Yaroslavl disaster. Photo: Barbora Reichova, isport.blesk.cz.
Those were the words of IIHF President
René Fasel
in the aftermath of Wednesday's airline disaster that wiped out the Lokomotiv Yaroslavl team. Indeed, one has to go back 60 years to find a disaster that was as devastating to a hockey team: the 1951 crash that killed almost all of the VVS Moscow team.
Though they were similar in that they were elite-level Russian teams and killed almost all players of each, there are some things that separate them. The 1951 disaster included only Soviet players and the communication limitations and political situation of the time meant that events were not immediately available to the public. Indeed, it would take decades for many of the details to be released.
Though the majority of the 43 people lost on Wednesday were Russian, there were, as Fasel stated, ten nations that felt the effects. The effect was felt immediately, too. Within half an hour of the plane going down, it was headlining news around the world. After Russia, that effect was probably felt the most in the Czech Republic.
Literally within minutes of the story breaking, the outpouring of emotions from Czechs was noticeable. Condolences were posted on social networks, with impromptu vigils being arranged everywhere.
"The news was shocking for all of us," began Czech Ice Hockey Association President
Tomáš Král
. "
Jan Marek
,
Karel Rachůnek
and
Josef Vašiček
played key roles on the biggest successes of our hockey in recent years, particularly at the World Championships in 2005 and 2010. They were not just great hockey players, but also excellent friends. We will never forget them."
In a hockey-mad country where the pinnacle of the sport is representing the country in the World Championships or Olympic Games, a gold medalist has achieved immortality. As the headline of newspaper
Sport
proclaimed, "
Zůstanou šampiony
" (They Remain Champions). Another read, "
Slzy pro tři zlaté chlapce
" (Tears for Three Golden Boys).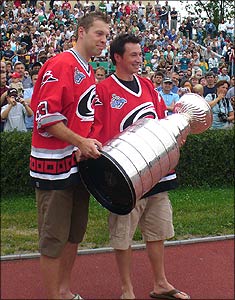 Josef Vašiček (left) and František Kaberle,
with the Stanley Cup in Kladno, 2006. Photo:
Mike Bolt,
hhof.com
.
At age 30, Josef Vašiček was the youngest of the trio. Hailing from Havlíčkův Brod, he struck gold as a junior, being a member of the 2000 World Junior Championship team. Vašiček played junior hockey with the Sault Ste. Marie Greyhounds of the Ontario Hockey League and then 460 games in the NHL, mostly with the Carolina Hurricanes. During the 2004-05 NHL lockout, he played in the Czech Extraliga for Sparta Praha, and then was a member of the Czech Republic's 2005 World Championship in Vienna. He experienced even more success a year later, as a member of Carolina's Stanley Cup championship team. A big centreman, Vašiček was intelligent and played well at both ends of the rink. He went to the KHL in 2008, and was about to begin his fourth season with Yaroslavl.
Karel Rachůnek, age 31, was Yaroslavl's captain, and was actually on his third tour of duty with the team. He played for them briefly during the 2002-03 season, again from 2004 to 2006, before rejoining them in 2010. He came from Zlín and played for that club in the Czech Extraliga in the late 90s before going to the NHL, where he played mostly for the Ottawa Senators. A decently-sized, if not large defenceman, Rachůnek developed an offensive touch later in his career. Last season, he led all KHL defencemen with 46 points. One of the videos that most often appeared on Facebook tributes in the aftermath of the disaster was "Rachna Kachna"'s tying goal against Sweden with 8 seconds left in the semifinal at the 2010 World Championships. In the final game, against Russia, he assisted on
Tomáš Rolinek
's tournament-winning goal, which earned him golden status.
Rachůnek's two brothers,
Ivan
and
Tomáš
, both play for Sparta Praha. At a meeting between the three of them this summer, Karel was asked if he would join his brothers in the Czech capital at some point. He answered, "I have a contract for this season, then we'll see. My brothers are trying to pull me back home."
Jan Marek, 32, was a centre from Jindřichův Hradec. Somewhat undersized by NHL standards, he is the only one of the three to never play in the North American circuit, though he was drafted by the New York Rangers in 2003. He played in the Czech Extraliga for Oceláři Třinec and Sparta Praha, where he won a national championship in 2006, before heading for the Russia. He played four years for Metallurg Magnitogorsk, where he won a European championship in 2008, and one year with CSKA Moscow before signing with Yaroslavl this past summer. In 2008-09, he led the KHL with 35 goals in 53 games. In the 2010 semifinal game where Rachůnek scored the tying goal, it was Marek who scored the shootout winner.
"I talked with Jan Marek fourteen days ago and he told me he just had a baby," Czech national team coach
Alois Hadamczik
said on Wednesday night. "I told him this could be an opportunity to come back home, considering he'd been abroad for a long time. Now he won't be home anymore."
After all of Wednesday's impromptu memorials, one was arranged at Prague's
Staroměstské náměstí
(Old Town Square) on Thursday afternoon by the Czech Ice Hockey Association. Thousands braved the less-than-perfect weather to pay their respects. In past years, many of those same people flocked to the same place in ecstasy, celebrating big victories by Czech teams. As Král explained, "We chose Staroměstské náměstí, which is associated with the success that they achieved."
And just in case winning gold medals wasn't enough to immortalize the trio, the ČSLH made it official. It was announced that the numbers 4 (Rachůnek), 15 (Marek) and 63 (Vašiček), the numbers the three players wore when they won gold, will never be worn again on the Czech national team.