When the Boston Bruins won the Stanley Cup on June 15 with two Czechs on their roster, it became nearly certain that the trophy would visit the Czech Republic at some point this summer. We now know the dates.
Website hokej.cz is reporting that the Cup will be in the country from July 20 to 22.
Tomáš Kaberle
The Stanley Cup will be flown into Prague's Ruzyně Airport on Wednesday, July 20 and then be taken on a short drive to Kladno, the hometown of defenceman
Tomáš Kaberle
.
"We know the date of arrival and other details are planned," said Tomáš's father, former Czechoslovakian national team defenceman František Kaberle. "The Stanley Cup should first be seen on the athletic field in (nearby village) Velká Dobrá, then an event will definitely take place at Kladno's Sletišti Stadium. In the evening, it will then be at a private party."
This isn't the first time the Cup has been at a private party in the Kaberle family. Tomáš's elder brother, František Jr., won the Cup as a member of the Carolina Hurricanes in 2006. Coincidentally, Carolina is Tomáš's new team, as he signed a free-agent contract with them on Tuesday. Of course, Kladno's most famous native son, Jaromír Jágr, won the Cup twice with the Pittsburgh Penguins in 1991 and 1992.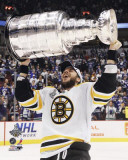 David Krejčí
The following day, the Cup will travel east to Š
ternb
erk, home of playoff scoring-leader David Krejčí.
"We are negotiating with city management to use the main square in Šternberk for a celebration for local residents and supporters," informed František Tausch of Global Management Group, the agency that represents Krejčí. "In the evening, David will have his private celebration. The boys have a deal that they will participate in all events together. David will be at Tomáš's party, and the second day they
reverse roles."
On Friday, July 22, the Cup will travel to Trenčín, Slovakia, hometown of Bruins captain Zdeno Chára.
Following is a list of all Czech-born players who have been members of Stanley Cup-winning teams.
1984 -
Jaroslav Pouzar
(Edmonton)
1985 -
Jaroslav Pouzar
(Edmonton)
1986 -
Petr Svoboda
(Montréal)
1987 -
Jaroslav Pouzar
(Edmonton)
1989 -
Jiří Hrdina
(Calgary)
1990 -
Petr Klíma
(Edmonton)
1991 -
Jiří Hrdina
,
Jaromír Jágr
(Pittsburgh)
1992 -
Jiří Hrdina
,
Jaromír Jágr
(Pittsburgh)
1995 -
Robert Holík
(New Jersey)
1999 -
Roman Turek
(Dallas)
2000 -
Patrik Eliáš
,
Robert Holík
,
Petr Sýkora
(New Jersey)
2001 -
Milan Hejduk
,
Martin Škoula
(Colorado)
2002 -
Jiří Fischer
,
Dominik Hašek
,
Jiří Šlégr
(Detroit)
2003 -
Patrik Eliáš
,
Richard Šmehlík
(New Jersey)
2004 -
Pavel Kubina
,
Stanislav Neckář
(Tampa Bay)
2006 -
František Kaberle
,
Josef Vašíček
(Carolina)
2008 -
Dominik Hašek
,
Jiří Hudler
(Detroit)
2009 -
Petr Sýkora
(Pittsburgh)
2011 -
Tomáš Kaberle
,
David Krejčí
(Boston)