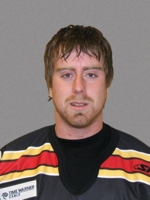 For the first time this season, there will be a North American playing in a Czech hockey league lower than the Extraliga.
Jeff Winchester
, a defenceman from Dalhousie, NB, has joined HC Bobři Valašské Meziříčí of the Second National League, which is the third tier of Czech hockey after the Tipsport Extraliga and the First National League.
Winchester played college hockey for the University of Alabama-Huntsville from 2002 to 2006. Since then, he's played in the ECHL, the Central Hockey League, Southern Professional Hockey League, and in the Netherlands.
Last season, he was a member of the Huntsville Havoc, who won the SPHL championship. He can be seen being interviewed during the team's championship celebration here:
http://videos.apnicommunity.com/Video,Item,109150079.html
On Sunday, he played in his first game with his new team. Winchester was kept off the scoresheet in Bobři's 4-3 loss in Uničov. Bobři is currently tied with Hodonín for 8th place in the 15-team league.
Prior to that game, he spoke with
Jan Kramář
and
Michal Václav
in
an interview that appeared on the club's website
:
Q: How did you end up in
Valašské Meziříčí
?
A: Last season I played with Robin Kovář and I had the opportunity to go last year, but there were a lot of players and the roster was full. So I'm here now, when I heard from Petr (General Manager Kovář).
Q: Did you have any other offers?
A: Yes, from my former club in the Netherlands.
Q: Who told you about the club?
You've told me about Robin, so it was him?
A: Yes.
Q: What expectations do you have of yourself playing in the Second League?
A: I'm definitely gonna work hard and I want to help Bobři win again.
Q: Where do you live?
A: The club has arranged a flat for me in the
Vyhlídka area
.
Q: Do you have a girlfriend?
A: Yes I do. She's here with me. It's her first real winter and the first time she's seen snow.
Q: Thank you and good luck with Bobři.
A: Thanks, I'll try to give a good performance.
Note: The original interview took place in English and was translated into Czech for the HC Bobři Valašské Meziříčí website. It has been translated back into English from that site, so it will not be exactly the same as the original interview.